GRAND OPENING: Iotron snips ribbon on beam accelorator facility
COLUMBIA CITY — The doors officially opened at the new 54,000 square-foot Iotron Industries, USA facility in Whitley County Thursday at an open house hosted by the company. In 2010, following an extensive 16 month search, the company decided to locate its e-beam sterilization and materials modification facility in Indiana.The star of any Iotron show is Iotron's IMPELA Electron Beam Accelerator. The MeV (million volts) MW Industrial Materials Processing Electronic Linear Accelerator uses electricity-fueled technology and is more powerful than several other electron-beam facilities in the United States. Iotron's versatile IMPELA technology allows companies to covert to electron-beam services in their manufacturing processes.IMPELA allows Iotron to service companies in fields such as orthopedics and other medical devices, materials modification, plastics, aerospace and even commercial defense. It uses no radioactive material and is powered by simple commercial electricity, making it environmentally friendly.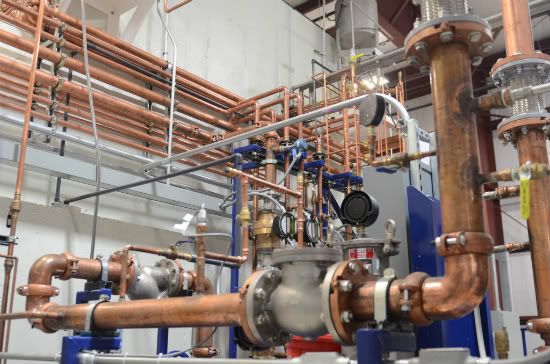 Jeff Blakely began working for Iotron nearly 20 years ago and is now the general manager of Iotron Industries, USA. Blakely is a native of Canada, and made the move from his position with Iotron in Vancouver.Blakely moved with his wife Melinda, who is now administration officer at the facility, according to Pohl.Blakely said that the project wouldn't be possible without Chairman Lloyd Scott, who teaches a mentality of thinking outside of the box and having vision. Scott was president and CEO of the company for the better part of two decades.He then gave a brief history of the company and IMPELA technology, saying it was initially used in a much larger capacity, but the company was looking for a way to use it on a merchant scale."IMPELA quickly established itself as a highly reliable system," said Blakely. "Control issues in the past were quickly resolved."Iotron, established in 1994 in Vancouver, spent the next decade developing into a team of experts who became extremely proficient at utilizing the technology. Iotron bought the exclusive rights to the technology in 2001.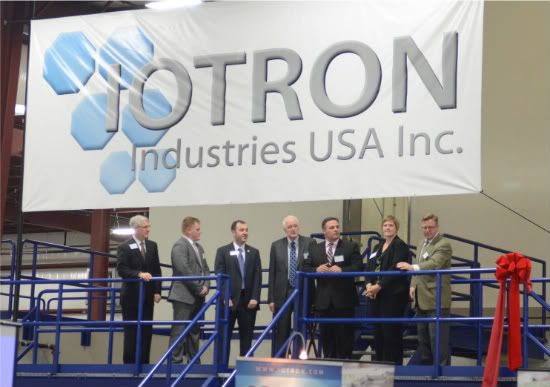 ___For a more in depth look at this story, see the March 16 issue of
The Post and Mail
. Don't have a subscription? Call (260) 244-5153 or subscribe to our
e-edition
. For breaking news, sports updates and additional coverage, bookmark the
homepage
and find us on
facebook
.